Yarmouk Band -
فرقة اليرموك>
ID Card of Yarmouk Band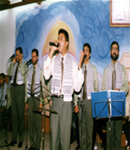 Name : Yarmouk Band
Country : Jordan
Hits : 12959


Biography of Yarmouk Band
The artistic experience:
The Yarmouk artistic team in Oman /Jordan has carried the Islamic reserved message since the eighties. The team performs many chants and other artistic works inside and outside Jordan. They combine between traditional content and recent performance.
The Yarmouk team shows a special concern towards the issues of the Ummah especially the Palestinian problem. The team carries the burden of Muslims on its shoulders.
The team is currently preparing several works in a new style concerning vocal and visual performance after 25 years of hard work and productivity.
The team's works and activities:

The team animates many weddings in different cities in Jordan.
The team has introduced its works to a wider population like in Universities, syndicates, schools and others…
Yarmouk takes part in plenty of its own theatrical shows such as (Madina La ta'arifo Al Houdoud / A city with no boundaries), and (Abu Mahjan Yadharo Fil Qodss / Abu Mahjan shows up in Jerusalem).
The team had participated in so many artistic events that took place in Jordan, America, Sudan, Lebanon, Saudi Arabia, Algeria, Kuwait and the United Arab Emirates.
1) The administrative leaders of the team:

- Rashid Qushuû (Abo Ahmed) the team founder
- Mohammed Al Gharablî the leader of the team
- Tariq Allaham the leader's assistant
- Maâmoun Mishâalah the financial and administrative manager
- Aâmir Aâtiya the director of public and media affaires
- Sahm Maryân the team's secretary
2) The team members:

-Ahmed Qushuû, Omar Aâbidine, Mohammed Hanoun, Moôtassim Fouad, Aâtif Daâssane
- Khalid Assaghir, Ashraf Yusuf, Midhat Maskaoui, Hamzah Mshaâla, Mohammed Zaki
- Ousamah Mshaâla, Khayri Azzobri
Official website of Yarmouk Band, photo of Yarmouk Band, album anashid islamiya mp3 Yarmouk Band, enshad Yarmouk Band, taranime Yarmouk Band, download anashed Yarmouk Band , song et video Yarmouk Band, music Yarmouk Band