Sami Yusuf -
سامي يوسف>
ID Card of Sami Yusuf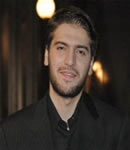 Name : Sami Yusuf
Country : United Kingdom
Hits : 72498


Biography of Sami Yusuf
Sami Yusuf is a British composer, singer and interpreter from Azerish roots. His first Album, Al-Mu'allim, came out with a huge success in July 2003. His second album, My Ummah, was edited in 2005 in musical and instrumental versions. Yusuf's Music includes mainly songs about Islam and the fact of being Muslim nowadays. In his music, he deals with social and human problems. He is a very popular figure in the Islamic World. He did also many video clips that are available on his website.
However, he also provoked a controversy concerning the nature of his spectacles that are to be said they are closely considered as Occidental Pop concerts rather than being Islamic spiritual values that he pretends to be embracing. He edited a refutation message on his website as a response to that critic.
His international status has largely grown after his featuring the Trio Outlandish on the track of "Try not to cry", and his collaboration with Ar Rahman and Ustadh Mehboob.
Sami Yusuf was born in July in 1980. He was born in a musical family from Azerish roots, that's why he made music get into his life.
Sami had learned to play on many instruments since his youth, and showed a special interest towards singing and composing. At the age of 18, he could get a scholarship to study composition at the Royal Academy of Music in London; one of the most prestigious musical institutions in the world.
Sami started composing at very young age; his unique voice is completed by his broad knowledge about notes and harmonies. He has also a good understanding of musical theory and Middle-Orient modes (Maqam). He is a very practicing Muslim and sees music as an expressive message that encourages youths to be proud of their religion and identity. However, he says that he does not promote Islam: "I make Music", not for preach, (…) I do not see myself as a missionary; this is Allah's mission. We do not have that Christian idea to make missionaries."
Sami Yusuf was in the United States, Azerbaijan, Saudi Arabia, Jordan, Syria, Turkey, Malaysia, Egypt, United Kingdom, Germany, France, Holland, Australia, Kuwait, Morocco and some other countries. He defused 5 video clips, the sixth one has not been broadcasted on TV yet except in Trafalgar Square in London.
Official website of Sami Yusuf, photo of Sami Yusuf, album anashid islamiya mp3 Sami Yusuf, enshad Sami Yusuf, taranime Sami Yusuf, download anashed Sami Yusuf , song et video Sami Yusuf, music Sami Yusuf