Rachid Gholam -
رشيد غلام>
ID Card of Rachid Gholam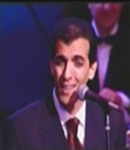 Name : Rachid Gholam
Country : Morocco
Hits : 93363


Biography of Rachid Gholam
Born in 1972 in Casablanca, Rachid Gholam started his artistic career in the middle of the 80s when he was still a teenager. At that time, he used to repeat Arabic classical and standard music such as Oum kalthoum's and Nazem Al Ghazali's. If Gholam has never been a Moroccan music star it is just because he had never sat foot on one of the two Moroccan channel studios. Though, he had his heydays at a given time even abroad. He took part in some artistic manifestations around the Arab world like in Carthage in Tunisia, and in the Opera of Cairo in Egypt.
The singer is also a boss of a company production called Addoha and founded in 1995 and where he had edited dozens of albums. Few years later, he joined Al Adl Wal Ihsan and left singing for conjurations and other "Amdah". He asserted that he had changed after this restructuring by getting out from "the life of dissoluteness and easy pleasures" and reaching "a safe and stable existence".
Because of the tense relationships between authorities and the Islamist movement Al Adl Wal Ihssane, Rachid Gholam was prevented from public presentations in the kingdom. He produced abroad, especially in the Middle East. .. He was watched out during his trips, for rehearsals, by Moroccan eyes. His relationships abroad and incomes were always a threat to them.
Official website of Rachid Gholam, photo of Rachid Gholam, album anashid islamiya mp3 Rachid Gholam, enshad Rachid Gholam, taranime Rachid Gholam, download anashed Rachid Gholam , song et video Rachid Gholam, music Rachid Gholam